Kuuhubb Announces the Successful Soft Launch of Recolor By Numbers on iOS
April 3, 2019
Toronto, Canada – April 3, 2019 - Kuuhubb Inc. ("Kuuhubb" or the "Company") (TSXV: KUU), a mobile game development and publishing company, targeting the female audience with bespoke mobile experiences, is pleased to announce that it has successfully soft-launched its new mobile game Recolor By Numbers.
Recolor by Numbers is the most recent addition to Kuuhubb's growing portfolio of female-focused gaming apps and aims to replicate the global success of its flagship app Recolor, with over fifty million downloads to date.
The color-by-numbers segment has traditionally focused on the children's demographic, featuring simple, retro-style pixel designs. In contrast, Kuuhubb's Recolor By Numbers will appeal to an older audience, offering a significantly different experience. An extensive collection of rich and intricate designs and images, 2D and 3D objects will be available to paint in rich color palettes and numerous textures, all of which will be available in a subscription or ad-supported model.
"Coloring apps have continued to be wildly popular for several years. We foresee that Recolor by Numbers will be a significant part of the newest number coloring craze. Our team can easily replicate the best hit features from our flagship title Recolor, enabling us to rapidly accelerate the update and development cycles", stated Kristoffer Rosberg, General Manager, Apps & Games at Kuuhubb.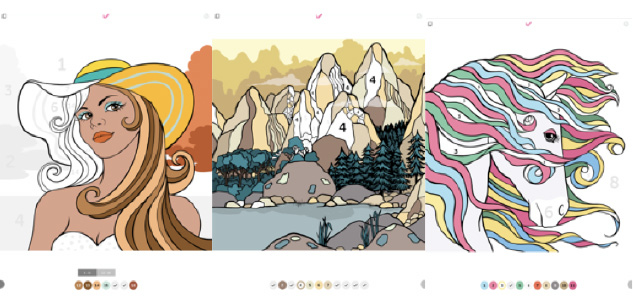 The soft launch sees Recolor By Numbers currently available on the App Store for iOS devices in Canada, the Netherlands, Finland and Croatia. Kuuhubb anticipates the global launch of Recolor By Numbers by the third quarter of 2019.
Click to Visit Link: https://itunes.apple.com/fi/app/recolor-by-numbers/id1411398756?mt=8
Jouni Keränen, the CEO of Kuuhubb commented, "Our team continues to create fun and immersive apps focused on the female lifestyle gaming segment. Recolor By Numbers incorporates many of the innovative designs and beautiful artwork that our flagship brand Recolor is recognized for, while adding easy to use color-by-number features for a relaxing and creative gaming experience."
The Recolor By Numbers team, located in the company headquarters in Helsinki, Finland, brings extensive experience developed in pioneering the work with Recolor. The team is comprised of industry veterans originating from Digital Chocolate, Armada and Rovio.